How to delete iTunes playlists from spotify
Export Spotify playlists, backup and restore playlists
Spotify playlists can be tricky, especially if you're like me. I'm a bit clumsy and it's not uncommon for me to accidentally delete songs and playlists from my Spotify account. Of course, for serious music lovers, this can be a setback. I am sure you understand.
So I've been looking for ways to get out of this situation and get all of my songs and playlists back and I've found some great methods in the process. I will share these with you today.
1. Extract your Spotify playlist from Google Chrome and import it again
It's a simple extension for Google Chrome that allows you to extract your playlists easily and safely with one click. You heard that right!
With this extension you can extract an M3U playlist / JSON array of items from your Spotify playlist with just one click. Here's what to do.
Step 1: Click the link below to download Spotify Playlist Extractor, a plug-in for Google Chrome. In the next window, click on "ADD TO CHROME" on the right.
https://goo.gl/8tO6mD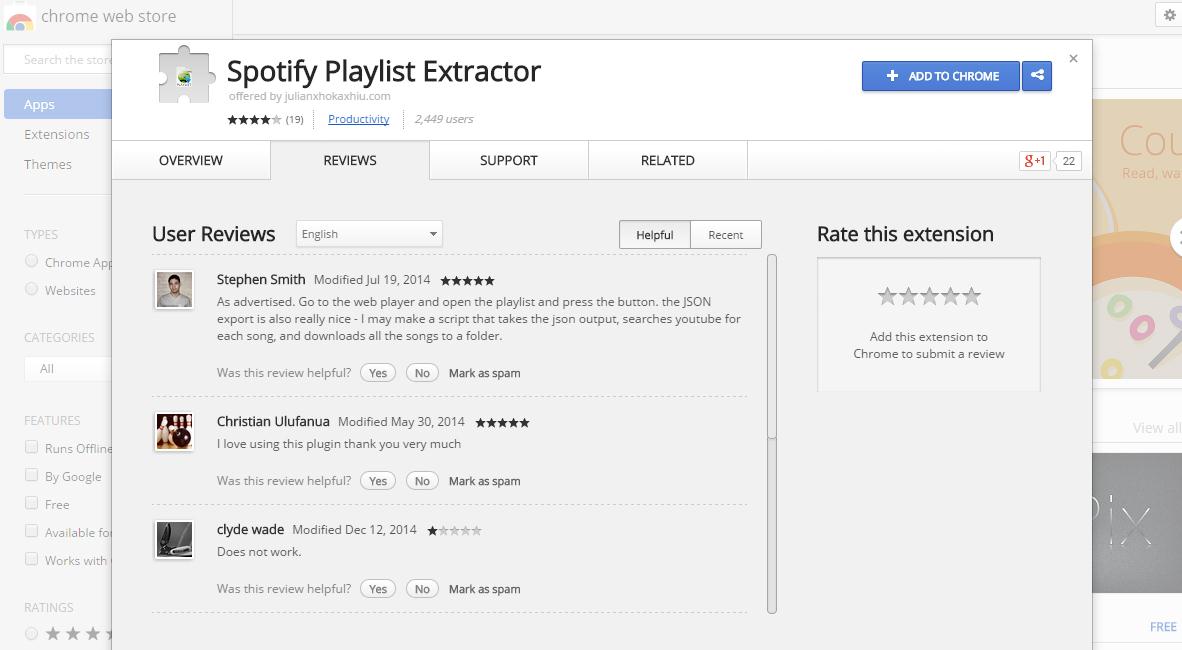 Step 3: Now that you've successfully added the extension to Google Chrome, you should be able to find a small button right next to the menu button in Chrome (look at the colored area on the right-hand side of the screenshot).
Step 4: Finally go to https://play.spotify.com and click on "Playlist", select the playlist by clicking on it. Click the "Spotify Playlist Extractor" button and wait for the process to complete. If you have too many items in your playlist, the plugin will automatically scroll through your playlist at an interval of 5 seconds. Once you're done, a new tab will open with a formatted result of your playlist items.
2. Exporting and importing playlists as a text file
If you don't want to download a Google Chrome extension, you can just use this method as it is really easy to do. Here's what to do to get started. Open Spotify on your desktop and open a new Word document. Place both windows side by side on your desktop. Now mark all the songs that you need to export and simply drag them into the previously opened document. Note that the names of the songs have been copied into the document along with the link that will take you directly to the respective song on Spotify.
Here is a screenshot that shows what it might look like.
3. Copy a shared Spotify playlist
Again, this method only works on the desktop, so you cannot use it on mobile devices like Android, iPhone or iPad.
Before you start, make sure you have Spotify installed on your computer. Here is the link to download it. Once you've downloaded it and finished installing it, follow the steps below.
https://www.spotify.com/us/download/
Step 1: Launch the Spotify application and click the playlist you want to copy. You should now see the list of songs in this playlist that you can highlight or select.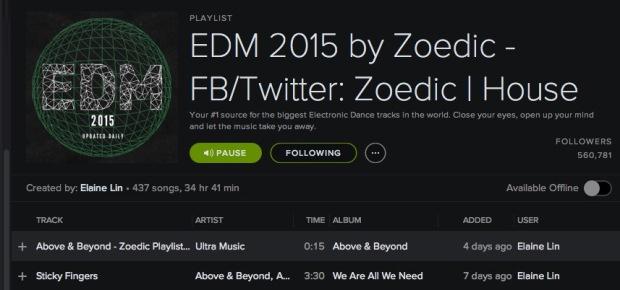 Step 2: Click any song in the playlist, then press Ctrl + A (Windows) or Command + A (Mac) to select all of the songs in the list. This should now highlight all of the titles and change their color to a light gray.
Step 3: Now right-click and select the "Add to" option from the drop-down menu. You can now either create a completely new playlist with a new name, or use one of the playlists displayed.
That's it already. You can easily make a copy of a playlist using this method. It's much faster and easier than adding all of your favorite songs to a new playlist one at a time.
Record Spotify music for free with TunesGo
Wondershare TunesGo - Download music and transfer it to your iOS / Android device
YouTube as a source for your personal music
Transfer your music from your iOS device
Use iTunes with Android
Complete your entire music library
Repair id3 tags, covers and backups
Manage music without the restrictions of iTunes
Share your iTunes playlist