Tips for choosing the wedding photographer (from a photographer)
167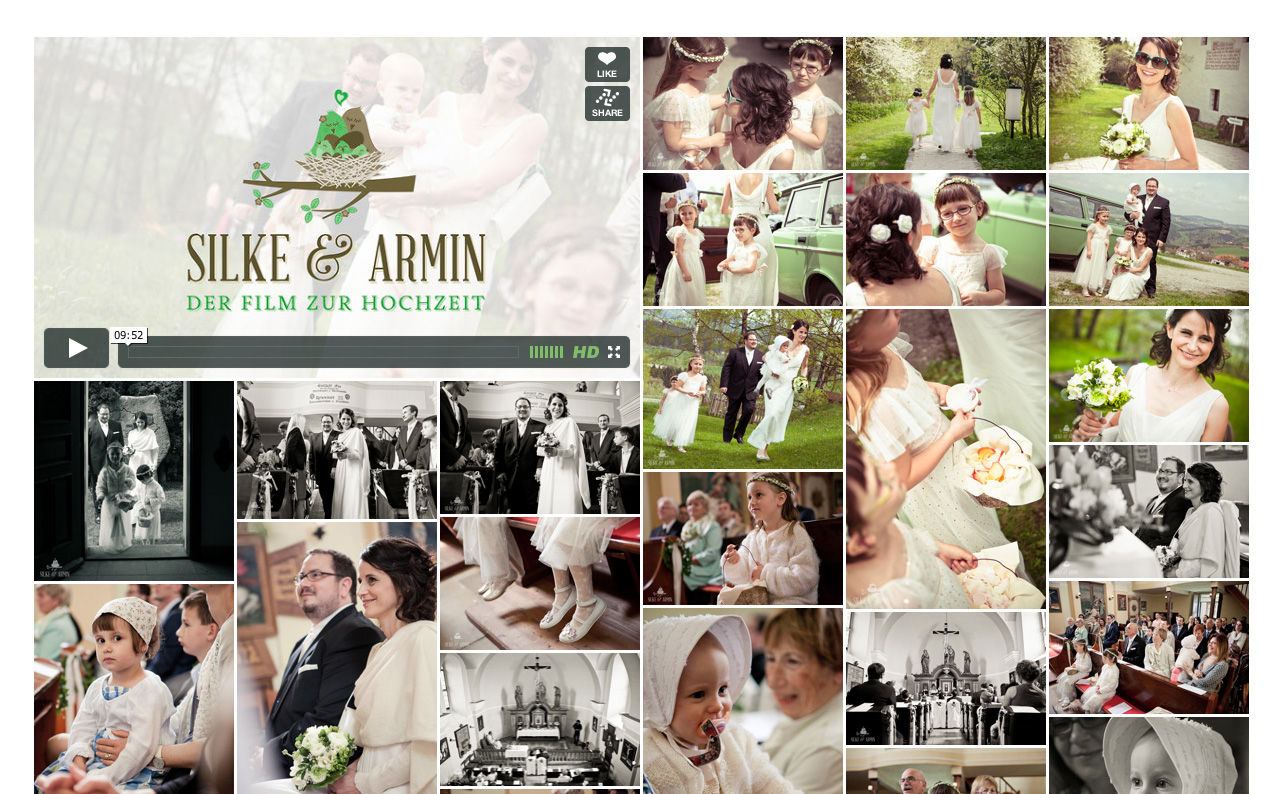 First of all - I am not a wedding photographer! Nevertheless, as someone who is a photographer who is about to become a customer of a wedding photographer himself (Edit - is now done ;-)), it is important to me to give you a few tips on what to look out for when you meet someone Have the "most beautiful day of your life" photographed.
(Of course the wedding should never be the best day of your life otherwise it would only go downhill from there.
But we do not want to discuss this fundamental philosophical question at this point. If it should still be important to you, we are welcome to talk about it in the comments).
It is definitely not my intention to step on anyone's toes with this article. But after following some wedding photographers both online and in real life, many with BE- some with amazement, it is really important to me to share my thoughts and selection criteria with you soon to be married people.
Namely from the point of view of a photographer who is definitely not on the hunt for you and wants you as a customer. Whatever I say of myself certainly has no ulterior motive 😉
Before we can take care of the details, let's first assume that you want beautiful photos of your wedding! If you don't really care about the quality and you really only care about the budget, then you can 1. simply tell all guests that they like to put the photos from their iPhones, compact cameras and SLR cameras that they bring with them into a dropbox after the wedding .
It doesn't cost anything and you have lots of photos from the day.
And 2. you can stop reading here.
Win win
Never without a portfolio
A good wedding photographer has a decent portfolio on their website that gives an overview of the style that awaits you.
You can also ask about entire wedding galleries. I wouldn't book a wedding photographer without getting a real impression of the photographer's work. A good wedding photographer is sure to show you one or more galleries of entire weddings. (Edit: Because that was apparently unclearly worded - of course that means Notthat your wedding may end up completely on the Internet without being asked. Which photos or which whole galleries can be shown still has that Bridal couple to decide. Normally, however, every good wedding photographer has at least one - usually several couples - the approval to show their photos online)
After all, you want to see what your wedding photos could look like as a whole, not just what the photographer's 10 best photos look like. If he or she has an eye for details and small things, does he or she capture moments or just take technically correct pictures of the day. Do his style, his idea of ​​colors and moods match your ideas? Only when you've seen an entire wedding do you really have an idea of ​​what you're buying.
I AM "AVAILABLE LIGHT PHOTOGRAPHER"
(Also "natural light photographer" or similar)
If you should read or hear this sentence, in whatever form, somewhere, then my well-intentioned advice is very simple - At least skepticism is appropriate here.
This sentence is almost scary for me.
Because somehow it sounds a little nice. You can quickly get carried away to gain something artistic or profound from it. "I just like it more naturally, I'm not a fan of artificial light"… Aha… Wow… An esthete…?
I know how many photographers will attack me for these words, but honestly, I've been teaching photographers for many years and I've heard the story of "natural light is just so much more beautiful" so many times.
No, I have to disappoint you there.
Basically, most of the photographers who call themselves pure available light / natural light photographers say nothing more than "please don't put me in situations where I have to work with flash, I'm afraid of things". (Not all of them, just most of them. The others just didn't think about it well enough whether it is very wise to market yourself as an "Available Light Photographer" ... But that would be an article in its own right)
It's not SO incomprehensible, which is why I did one a long time ago Article on fear of lightning wrote.
As a customer, you don't necessarily have to read this and know what you really need to know - A photographer always prefers natural light.
Sunlight, at the right time when it is beautiful, cannot be struck by any lightning in the world.
But a good wedding photographer knows how to deal with light.
Of course, some photographers mainly work with natural light, just as some prefer to work with artificial light. It's a question of style. But a wedding photographer always prefers natural light, but can also use artificial light in the right places if necessary and does not rule out that from the start.
It doesn't really make sense that one anyway Wedding photographer yourself as Available light photographer designated. If so - at least ask about what's going on.
Flashing at the wedding is (for me) absolutely taboo!
Confusing now I know
I still say, a decent photographer can handle flash light properly, and then that?
Possibly this is a purely personal matter of taste, but I think there are very few situations in which lightning is lost at a wedding. Definitely not at the wedding ceremony itself. An up-to-date SLR or system camera combined with a bright lens can still capture very beautiful pictures even in a somewhat gloomy church.
But it didn't flash 500 times during your wedding vows, the ring and especially when you kissed afterwards.
For me, that would be an absolute taboo. It is enough that friends and family who do not have their cameras under control probably illuminate the room often enough. Which brings us to the next - for me - very important point:
DISCRETION!
I feel very warm, but the uncomfortable version of warm when I see the "entertainers" some photographers want to be at weddings. The only one who nobody really knows walks around with a huge camera, flashes in a tour and then keeps talking in between. "Please, take a quick look here, yes that's nice, maybe a little friendlier, hm, ... your hand there please ..." PSSSCCCCHT!
For me, a really good wedding photographer is as inconspicuous as possible.
You can only capture moments if you take part in them as little as possible and do not falsify these moments. And no other day is full of moments than a wedding day.
Of course, it is difficult to test this property in advance. But you can definitely ask a photographer that you want someone to capture the moments, not a wedding entertainer.
So make sure that you get along with your wedding photographer personally. Sympathy with her or him is more important than worrying about which camera you are working with.
WHO BUY CHEAP, BUY FRUST!
If you care about having beautiful photos as a memento of this day, then think twice Valence these pictures.
Many bridal couples spend many times what the photographer costs on food at their wedding. And they order the food months earlier than the photographer. (Why a good wedding photographer also demands good prices, we'll get to that later, don't worry)
Why should the meal of one evening that is plastered in 1-2 hours and washed away with hectoliters of alcohol (not to mention the fact that it is sunk in the eternal hunting grounds late on the next morning) be considerably more valuable than the photos you ( if you keep the promise you make) the rest of your life will look at.
Who has not already experienced a wedding where a friend or relative of the family, who is himself an enthusiastic amateur photographer, has taken far better pictures than the photographer who was booked.
Most of the time, that's because the amateur who is passionate about photography pays much more attention to detail, concentrating on seeing and capturing moments. Even if the possible ways are not always technically correct, the images have life and reflect the day.
And that's what wedding photos are all about.
If you ask more closely, you will usually find that the photographer you booked often asked for less than € 1,000 for the whole day. And even if you have "only" paid € 700 for a photographer, if you are not satisfied with the results it is money thrown out of the window. For 700, - you can get a lot of nice stuff.
Don't be fooled and, above all, don't be fooled. A good wedding photographer who can make a living from his job (and you can only be good at your job if you can make a living from it, that has a certain logic) will work for one day (~ 8 hours and approx. 150-200 photos, some also deliver significantly more, but I never measure quality by quantity and in case of doubt I would rather take 150 really good photos than 500 half-hearted ones.)from € 2.000, - desire.
"WELL, I WOULD LIKE TO HAVE THE HOURLY WAGE!"
This mistake of reasoning affects not only wedding photographers, but all employees of pretty much every creative branch.
That's why I'll do a little math exercise for you and myself and dedicate a little more time to the topic of costs. You are already used to bills when preparing your wedding 😉
In order to simplify the calculation, let's assume that the photographer has to include arrival and departure 10 hours to do at the wedding and charged for it € 2.000,-. That makes it very clear - he has one Hourly wage of € 200, -. And that's natural complete nonsense.
A wedding photographer (like any other photographer) is a small company.
A company that has to purchase equipment (and it is absolutely not cheap) that has expenses outside of the hours charged (B.office and / or studio, car, computer, software, organization, website, accounting, advertising, assistant, equipment maintenance, training, etc.) and who not only has to finance everything, but also money at the end of the day to survive needs. When eating in the restaurant, we of course not only pay the material value of the schnitzel. There is the cook, the waiter, the dishes, the cutlery, the furniture ... you know what I'm getting at.
I once did the job of adding up the cost of decent equipment. Based on average rental prices from various camera rental companies in Austria. Starting from 2 cameras (on the one hand because 2 different optics can be used very quickly, on the other hand because without a backup camera it is not guaranteed that the entire wedding is really on.
Like any other technical device, cameras get broken from time to time.
Wouldn't it be stupid if that happened 30 seconds before the yes-word and the photographer only had a camera) plus a few Optics (both zoom and fixed focal lengths) a small one Flash system With Light shapers for the bridal couple photos and miscellaneous Gem (Filters, batteries, reflectors, cables, bags, etc.).
We'll come up with that very quickly € 600,- which the photographer would have to pay for one day to rent out all of his equipment. Depending on the quality standard, a lot more. "But, I'm not paying for that, he has his own equipment", I can already hear the heckling 🙂 Yes, of course, but he or she had to buy that too (if it didn't fall off the famous truck).
For the equipment from my sample calculation, it has to approx. € 20,000 output. (No, we are still a long way from "high-end" equipment. Let's call that "upper middle class") And he will have to replace some of it from time to time. After 4-5 years of continuous use, a camera e.g. be exchanged at the latest. Flash lamps give up the ghost, just like the expensive batteries in flash systems ... etc ...
Oh, he still has to insure the equipment. What you can forget there 😉
In short, he needs his equipment offsetting so that he can survive. This is also called a calculation. And I guarantee that a photographer who will do an entire wedding for you for 500 euros has no clue of the calculation.
From the rest, from them € 1.400,- what is now theoretically left remains after all Taxes (Sales tax 20%, income tax at least 38.333%) and Social security contributions (27%) in about half (in simplified terms, I don't want to calculate a tax advisory example here either, but just give a rough overview approx. € 700
Let's say, if he / she is not only good, but also very fast, then he / she has a total time investment of around about 10% for the wedding 25 hours. Including preliminary discussion, arrival and departure, preparation, processing of photos, shipping and archiving. Makes an hourly wage of approx. € 28. It doesn't sound SO bad, there are worse jobs, right? But I would like to point out that we have the above-mentioned expenses such as computer equipment, software, hard drives, office / studio advertising, website, accounting, organization, training, etc. here Not have withdrawn! (Photographers are reluctant to calculate something like this and rarely down to the last detail, because then we have to cry when we see in black and white that we often have better hourly rates for cleaning sanitary facilities. For which, however, we don't have to toil for years for any good to be enough. Which is why we will calculate this example with 25 hours and not the probably more realistic 35 or more hours)
Hopefully it is now clear why I have become so detailed and why I attach so much importance to this point. A serious wedding photographer, the quality delivers and live from his work wants (without taking a part-time job or being permanently on the verge of burnout while sleeping in his unheated studio) just can't afford to work cheaper for you guys.
Of course, I can now hear the photographers who think it would be a cheek of mine to say that someone who photographs an entire wedding for € 700 cannot do a good job. But as sorry as I am, that is exactly the case. I don't just claim that, I know that. For € 700, - a photographer can only arrive with inexpensive tools and not take the time to take really nice photos. And I also know that with this fee, he couldn't possibly have invested a lot of money and time in himself and his work. But that's exactly what I expect. Someone who knows what he's doing and who doesn't practice at my wedding. So again - those who offer too cheap cannot do a good job. Just like Mc Donalds can't throw a boiled beef from Plachutta with side dishes from the drive in for one euro.
THE NEWCOMER EXCEPTION
Because I have already been approached by colleagues a few times about it - "Yes, but what about the newcomers who are actually good but don't yet have a portfolio, what should they charge, nobody pays them." That's true. In this business you first have to work out a portfolio so that you get paid the usual prices. And with a little luck you will find such a newcomer too. But as it is with luck - you shouldn't take that into account. You don't calculate your family household with a lottery six just because there is one. If a newcomer is good, he will raise his price with every job and charge the usual market fees relatively quickly.
ONKEL FRITZ IS NO SOLUTION
First of all, I would like to apologize to every Fritz who reads this. This is really not meant personally. Uncle Fritz is just a fictional character. OK? But we all know them, regardless of whether they are Uncle Fritz, Franz, Ferdl or simply a friend of the bride and groom. The people who "have a great camera anyway". Let's just ask him if he'll photograph the wedding. That's where things get tricky. First of all, I would like to invite you to a simple thought: If I tell you that I have a fantastic new stove, are you already convinced that I am a gourmet chef and would you let me design your wedding menu without further ado?
I don't want to deny that in some cases, with a very motivated Uncle Fritz, it is actually a good idea for him to take the photos. However, I would just consider when Uncle Fritz self that offers. And then I would first convince myself whether Uncle Fritz really can and wants to do it. It is possible that Uncle Fritz is so distracted by the gorgeous bridesmaid that he forgets what he is holding the camera for a while actually wanted to do. It's not his job either. He's a too guest. And it is entirely up to him to allow himself to be distracted by the bridesmaid. Except for Aunt Mizzi, things are different. Which she probably does.
Make sure you do this right hard work is. Don't just go to a wedding and take a few photos. Nobody likes to be forced to do that. The photographer walked more miles on the day than the entire wedding party put together. (And I'm probably not exaggerating.) He's dragging a lot of weight around on his shoulders. And he must - if he is good and tries to capture as many moments as possible - be focused all day. It is a huge mistake to think that a wedding photographer is another guest with a camera. I can tell you one thing about the weddings I've done - I've seldom been as exhausted after a job as after a wedding where I took photos.
Long story short - gives the right importance to the choice of your photographer for the wedding, then you will not be disappointed in retrospect, because the only thing (apart from the fantastic feeling of being married and the ring on your finger) of this wedding remains tangible and visible, not has become as beautiful as you would have liked. In the worst case, the whole thing ends in a disaster like this (- click)! And book in good time, the best photographers are often booked up a year in advance!
Good luck and have a wonderful day, with many wonderful ones afterwards 😉