Summary by Isidore Okpewho of the sacrificial tape
Tower of fools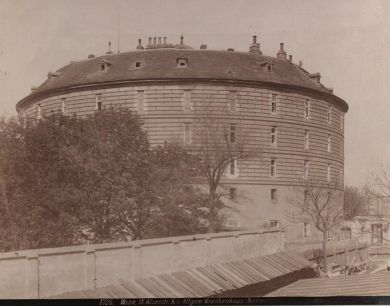 Alserstrasse 4, "Narrenturm", around 1904
| | |
| --- | --- |
| Image name | HMW 029492 00001.jpg |
| Caption | Alserstrasse 4, "Narrenturm", around 1904 |
| Image source | Wien Museum, Inv.No. 29492/1, photo: A. Stauda |
| Image rights | CC BY-NC-ND 4.0 |
Currently no conscription number has been recorded for this structure!
Narrenturm (9., Sensengasse 2 [Altes AKH]), popular name for the "Irrenturm" (five-storey round building for the mentally ill) built in the year the General Hospital opened in 1784 according to plans by Isidore Canevale "Kaiser Josephs Gugelhupf" was called.
The building had 28 cells on each floor. Better treatment of the mentally ill could be ensured here. The Narrenturm was occupied with patients until 1866, before they were moved to the Lower Austrian state insane asylum. Later, after a long vacancy, it was used as an archive and a nursing home. Since November 1971, the Federal Pathological-Anatomical Museum (which had previously been housed in the University's Institute of Pathological-Anatomy) was established in 25 cells on the first floor. In 1974 it was taken over by the federal administration and subordinated to the Federal Ministry of Science and Research. The pathological-anatomical collection has belonged to the Natural History Museum since 2012.
See also: mental hospitals, old general hospital, Lower Austrian state mental institution, Narrenturm (mental institution)
swell
literature
Dietmar Steiner: Architecture in Vienna. 300 buildings worth seeing. Vienna: Magistrate 1984, p. 95