Marie Rhines violinist who taught
◆ Renowned violinist, Marie Rhines, follows heart and brings music magic to Wyoming.
World renowned violinist Marie Rhines has a simple philosophy: "Aim for the hardest thing you can do, then just do it." God will do His part and prepare opportunities.
"Assuming you've done the homework" - meaning the years of hard work - "you aim for the moment. I worked for that moment, "Ms. Rhines told SVI Media.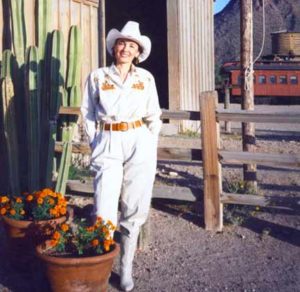 For Star Valley's own virtuoso, the "moment" became a lifetime of "moments" in going where God leads. The result has been and continues to be a professional life of not only appreciation from fans across America and Europe, but also respect from renowned names like Tony Rice, Arlo Guthrie and Micky Newbury - to name a few - who performed by her side from Poland to California.
In fact, reminiscing about some 40 years of performing was like a melodic stroll through the American Musicians Hall of Fame. Ms. Rhines has performed every musical genre from Mozart to Americana. From symphony violin to Scottish and Irish fiddling. She has played at sold-out concerts in tours from San Diego to Boston.
And although the musician, who adds the piano and cello to her repertoire, can play any symphony Bach or Beethoven composed, she found her heart in Nashville. Rather, her heart found a home in Scotland, made its way through Boston, and found its rest out west. As her resume on www.marierhines.com says, she's a "classically-trained violinist / composer whose style encompasses classical, European, traditional Americana and Western."

But her love of music - and America - was born under the "watchful eye" of the Minuteman Statue in Lexington, Massachusetts, her hometown. Visiting with SVI Media on Sunday after she performed an original gospel medley for the Thayne 2nd Ward, Ms. Rhines recalled her childhood as a mix of eating ice cream on the "battle green" of Lexington, worshiping at the Hancock Congregational Church, attending Hancock School and performing with school orchestras.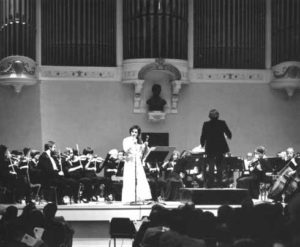 "So when you grow up in that environment, you have a heart for America. America is a special place, "Ms. Rhines said emphatically. "Every April 19, we celebrated Patriot's Day. I used to march as a girl scout in the parade every year. "
At first, the petite, soft-spoken, graceful woman with auburn hair didn't seem to want to talk a lot about her childhood. Then, as the visit progressed, it became clear. Her life and music are one.
"Music is not just the universal language," she related. "There are no words or no paintings that can describe it. Music is more mysterious than any other art form. It turns a rainy day into a warm summer day. "
Her love of Scottish and Irish fiddle tunes goes back to American history, she related. She holds a master's degree in music from Yale and the New England Conservatory of Music. But she began with a bachelor's degree in history and political science from Northeastern and Boston Universities.
She did a sabbatical at Oxford University in England and privately funded her own research trip to the Shetland Islands in Scotland "to know more about the origins of Americana music."
There, she learned about - and mastered - Scottish and Irish fiddle tunes - which is the foundation for old-time New England and Appalachian Bluegrass music. In the midst of it all, she was recipient of the Rockefeller Grant for the American Music Center in New York. Over the years, Ms. Rhines has performed in the Lincoln Center in New York City and at Warsaw, Poland. The latter was for 30,000 alongside Micky Newbury, a Nashville Hall of Famer. They flew out of Warsaw the day before the Polish revolution began.
The performer / composer has received 22 awards from the American Society of Composers, Authors and Publishers. She has composed several original symphonies for both orchestra and band, sometimes rewriting a symphony for band instrumental. Along with several recordings with various recording artists, she has her own album - "The Reconciliation," a mix of Americana and Scottish / Irish fiddle tunes.
Ms. Rhines 'performance is fluidic richness - whatever genre. When she raises the bow, her violin leaps with music. You close your eyes; you swear there are two violinists. Creating the sound of her own duet is called "double stops," in musical terminology. "I worked hard mastering that," she said.
The violinist worked hard from earliest memory. "I competed with the toughest musicians in the world. Even though it was hard, I chose to be with the best in the world. "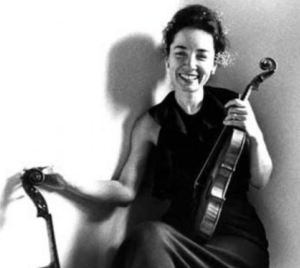 Ms. Rhines was her own manager, booking her own tours. With the exception of the one grant, she provided her own travels through self-supporting performances and CD sales. Sometimes her inspiration inspired the best.
An example was Tony Rice, a member of the International Bluegrass Music Hall of Fame who played alongside J.D. Crowe and The New South band. Breaking the heart of the music world, Rice died on Christmas Day, 2020, at age 69.
But at a folk festival in Vermont as Ms. Rhines 'own star was rising, she told David Grisman, the founder of the record label Acoustic Disc and American mandolinist," I want to meet the best guitarist? "
Grisman turned and led Ms. Rhines through "thousands of people. He led me to a tourist bus. "
There, she met a "tall, lanky guy" named Tony Rice. "David said,' I want you to meet Marie Rhines. '[Tony] said,' If David Grisman recommends you, then here's my card. Call me. '"
"I hired him to do a New England tour," and the two were soon rehearsing in Texas. "We hit it off instantly in terms of music. Note for note, we were matched perfectly. "
At one venue, "they broke all the fire laws," Ms. Rhines said, chuckling. "It was so packed."
What she had musically with Rice was "synergy," she expressed, and thus, she was stunned she got the call after Christmas that he had died suddenly.
"My heart just broke because I had dreamed we could revisit that memory of perfection."
Even The New Yorker mentioned Rhines with Rice after his death. Writer Alec Wilkinson wrote about researching Rice in the 1970s. "Someone told me about a fiddle player named Marie Rhines…. She… toured with a guitar player backing her. "
That guitar player was Tony Rice.
That same "synergy" wasn't a one-time perfection with the Hall of Famers. The accounts include Guthrie, Woody Guthrie's son. They performed at a folk festival with a Woodstock flair. The recorded venue at New York City's Tavern on the Green in 1977 was re-aired on WGBY-TV in 2014.
For many years, Ms. Rhines settled in Sedona, Arizona, from where she traveled throughout the world, performing alongside other famous talents like renowned bass player Miroslav Vitous. She was guest soloist and composer with the 15th Air Force Band of the Golden West and Command Band of the Air Force Reserves for seven-city tour during Operation Deseret Storm.
The lover of Americana music described the moment during one performance with the Band of the Golden West when the commander announced that all U.S. planes had returned safely from a strike in Baghdad. Everyone in the concert venue exploded with cheers.
"I couldn't believe the emotion that came over me. To this day, I have an incredible love for our military and all who serve. "
But it was a concert in Afton, Wyoming, that would later change her life. Some 20 years ago, she was invited to play at Star Valley High School by the Afton Arts Council. She came, and a blizzard struck. She was snowed in.
"Somebody from the town came and got me with their big white pickup truck. I didn't think anyone would show up [due to the storm] but to my amazement it seemed [the whole valley] showed up. "
She did a high school orchestra the next day, and left for home. Then, a few years ago, she felt she was to leave Arizona. But where? "I prayed and prayed." Then she asked herself, "What was the place where you felt you most belonged?"
Then she remembered. "It was north of Afton, after I drove out of town. This vast valley of green rolling pastures. It was unique. It was its own little message. "
So after a round-a-bout journey through Colorado, Ms. Rhines came to Star Valley and is building a home.
"The people in Star Valley are different from anybody in the country," she told SVI. "Everybody has been so welcoming and kind.
"The people are actually engaged actively in fulfilling the mandates of Christianity. They smile when they see you. I'm trying to keep up the smiling. "
The woman who had a jazz quartet named the Marie Rhines Band in Boston and who produced a radio program that ran for 25 years now calls Star Valley home. She hopes to teach violin, piano and cello students of any age. And she has her CD for sale for $ 19.99. She said to call her personally at 928-830-1826 for lessons or to meet her at a public venue for her CD. She will soon perform fiddle and piano tunes at Ford Theater.
- For more information on Ms. Rhines' accolades and compositions, see www.marierhines.com. Also see https://www.masslive.com/entertainment/2014/12/wgby57_to_air_lost_arlo_guthri.html and https://www.newyorker.com/culture/postscript/the-master-guitar-playing-of-tony-rice.
Tagged: Arlo GuthrieMarie RhinesMicky NewburyTony Rice