Demo: WhatsApp on Nokia Asha 502, 503, 500 & 501 (Dual Sim Nokia Phone)
While WhatsApp had a hard time coming to Dual SIM phones which kept the sales low of most of the Nokia Dual SIM Asha series phone including Asha 501, Nokia 108, 107, 301 and so on. The app is finally available on the platform with Asha 1.1 update. I have tested this app for a while now on the Nokia 502. It works just fine and has most of the features included which the app has on other smartphone platforms. In this guide, I share how to install Whatsapp on Nokia Asha 501/502/503/500 Dual Sim, and how you can use it.
How to Install Whatsapp on Nokia Asha 501/502/503/500 Dual Sim
How WhatsApp works on Dual SIM?
Video Demo of WhatsApp on Asha 502
The user interface
WhatsApp Options on Nokia Asha Series
WhatsApp Settings on Nokia Asha 501/501/502/503/500 Dual Sim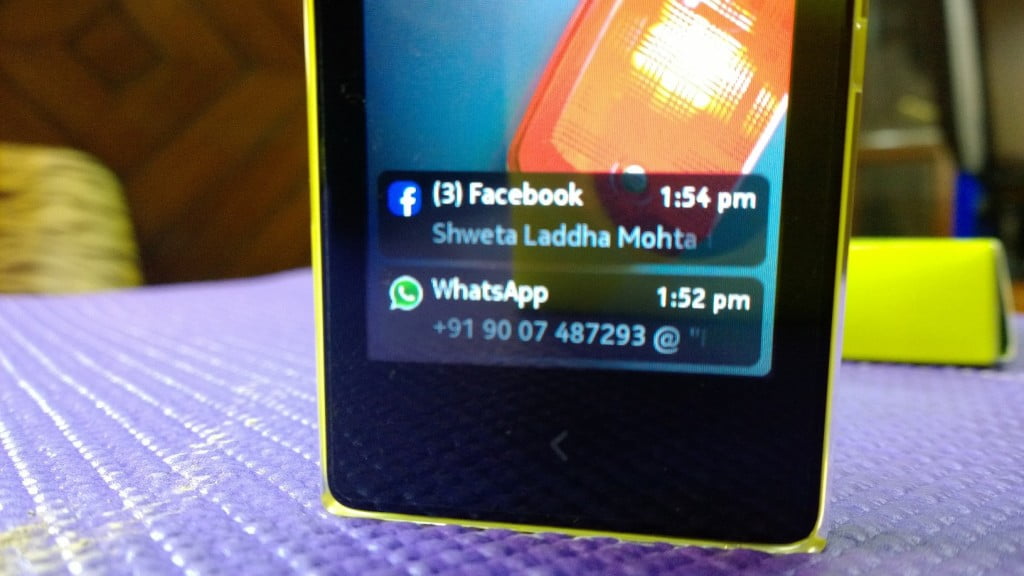 How WhatsApp works on Dual SIM?
This mystery opens up when you put two SIM in the phone and launch WhatsApp. It auto-detects both the SIM, but it cannot autodetect the number. So after you have typed in the phone number you want to use with the application, it will give you an option to select the SIM you want to use in WhatsApp messenger. The first SIM will be automatically selected if you don't make a choice.
Video Demo of WhatsApp on Nokia Asha 502/503/500
The user interface
Since the screen is small here, WhatsApp is built on multiple tabs here. Once you launch, you will have Favorites, Groups and All in Tab. Similarly, all the groups are available in the tabbed format. So let's say if you select a group and want to switch to another, you don't have to go back instead, you can tap on the tabs and switch between groups.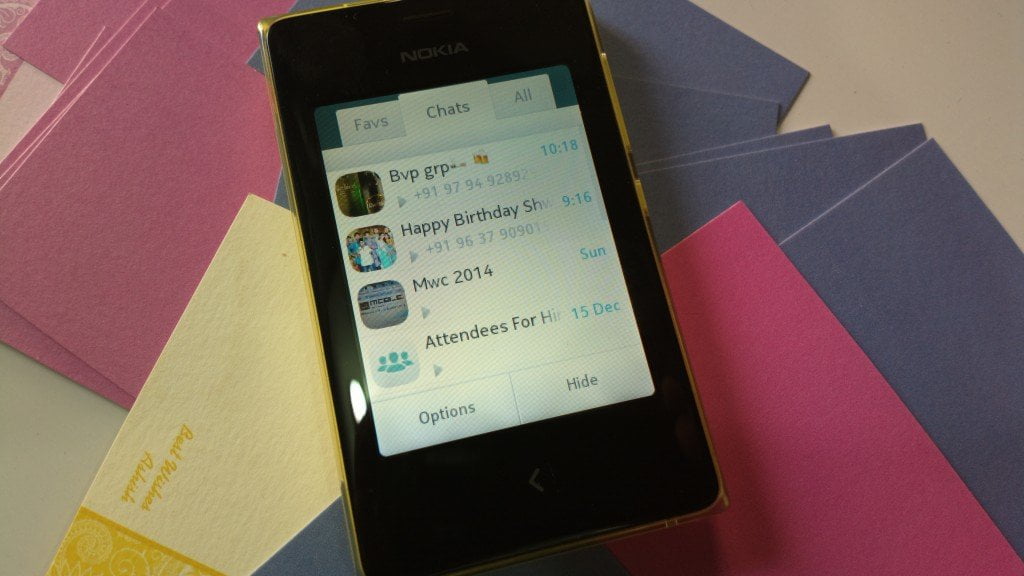 On the main screen, there is a menu bar at the end which gives you access to settings via options and lets you hide WhatsApp and let it run in the background. Even if you don't press hide and hit the back key, it works in the background to the fetch the latest messages and so on.
The unread notification from WhatsApp appears both on Lock screen and on top of the screen. You can pull down and tap to go directly to that message. In case multiple WhatsApp messages are available, it will take you to the list of the group.
WhatsApp Options on Nokia Asha Series
status
Search
New Group
New broadcast
Settings
and About.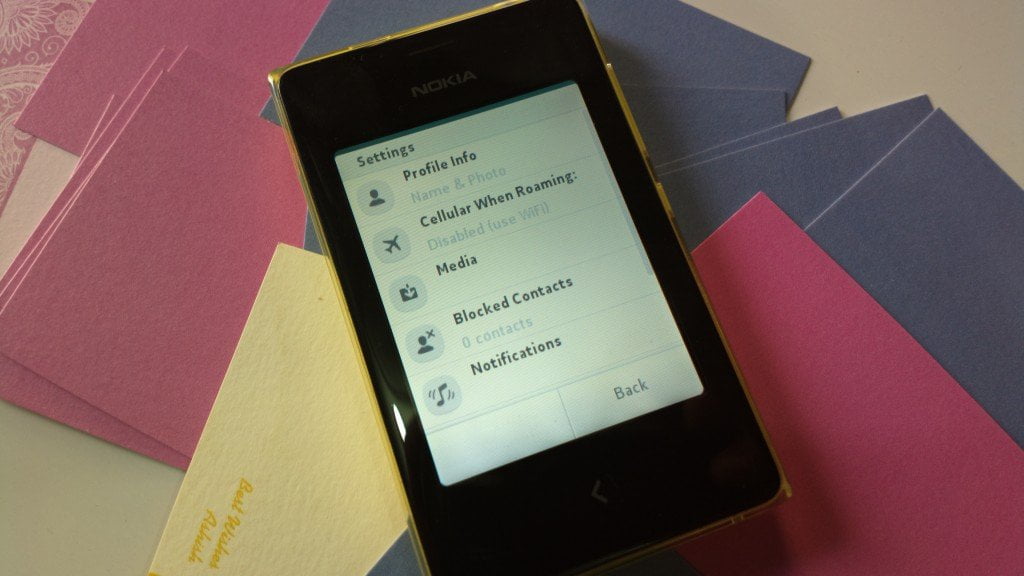 What most of you are interested in is settings. So here are details on settings:
Profile Info: Change name and picture.
Cellular While Roaming: You can choose to use cellular data on roaming or instead wait for wi-fi to connect.
Media: Auto download images, but this is not Background Download. It just lets you be lazy, so you don't do it one by one.
Blocked Contacts: You can search and add contacts from the address book or manually.
Notifications: You can control notifications on group level; each label, vibration, audio and set your tone. There is a message preview setting available which you can use to block notifications to show up on the lock screen.
Delete my account: You can delete your account from WhatsApp Completely. In case you want to reset, long tap on the app and click on the close red icon to reinstall it.
Change phone number: This will migrate your account info, groups, settings to a new phone number.
performance
That said, the performance of WhatsApp on Nokia Asha 501/502/503/500 Dual Sim is excellent. I did not find it slow from any point unless you have a flaky internet speed. The app launches quickly right from the notification center, can download images to the gallery on demand, share pictures, audio, video using your camera, photo library or record it instantly. It works fine.

A die-hard fan of Windows, Windows 10 Mobile, Windows Phone and Xbox, Loves to Do Video reviews on Windows Phone Apps, Games, Xbox Games, Xbox Tutorials.